Conservation, Management and Threats to Markhor population in Pakistan: An Overview
Markhor Population in Pakistan
Keywords:
Markhor, Conservation, Threats, Decline, Agencies
Abstract
Markhor is a national animal of Pakistan. It is present in different regions of KPK, Baluchistan and Sindh with majority of the population in KPK region. Generally, five species of Markhor are present in different areas of Pakistan and they differ from each other on the basis of their location and their horns. Its status is endangered in Pakistan and major reasons for its decline are habitat loss, hunting and poaching etc. An increase in hunting has been observed in last few decades due to its skull and meat importance. Although a lot of conservations programs are involved for the protection of this animal and various different national and international agencies are also working on it such as NWFP wildlife department etc. The agencies are collecting funds from different sources like tourism to protect this animal. The present review highlights the importance of Markhor along with its distribution, major threats and conservation strategies adopted to protect Markhor in Pakistan.
References
Roberts T. The Mammals of Pakistan, Ernest Benn. The Mammals of Pakistan, London. 1977; 26: 361.
Schaller GB. Mountain monarchs. Wild sheep and goats of the Himalaya. University of Chicago Press.; 1977. 425
Huffman DW and Moore MM. Ungulate herbivory on buckbrush in an Arizona ponderosa pine forest. Journal of Range Management. 2003; 56(4). doi:10.2458/azu_jrm_v56i4_huffman
Shackleton DM. A review of community-based trophy hunting programs in Pakistan. IUCN, the World Conservation Union; 2001 Jan.
Roberts TJ. A note on Capra falconeri (Wagner, 1839). Zeitschrift fur Saugetierkunde. 1969; 34: 238-49.
Ali S. Conservation and status of markhor (capra falconeri) in the northen parts of north west frontier province, Pakistan. 2008.
Ashraf N, Anwar M, Hussain I, Nawaz MA. Competition for food between the markhor and domestic goat in Chitral, Pakistan. Turkish Journal of Zoology. 2014; 38(2): 191-8. doi: 10.3906/zoo-1306-6
Khan M, Siddiqui PA, Raza A, Zahler P. Status of flare-horned markhor (Capra falconeri falconeri) in Jutial Conservancy, District Gilgit, Gilgit-Baltistan (previously northern areas), Pakistan. International Journal of Biology and Biotechnology. 2018 Sep; 15(2): 343-9.
Koul GL, Biswas JC, Bhat PN. The Cheghu (pashmina) goat of the Himalayas. Small Ruminant Research. 1990 Jul; 3(4): 307-16. doi: 10.1016/0921-4488(90)90012-U
Johnson KA. Status of Suleiman markhor and Afghan urial populations in the Torghar Hills, Balochistan province, Pakistan. Biodiversity of Pakistan. 1997: 469-83.
Michel S, Michel TR, Saidov A, Karimov K, Alidodov M, Kholmatov I. Population status of Heptner's markhor Capra falconeri heptneri in Tajikistan: challenges for conservation. Oryx. 2015 Jul; 49(3): 506-13. doi: 10.1017/S0030605313000860
Rashid W, Shi J, Rahim IU, Dong S, Sultan H. Issues and opportunities associated with trophy hunting and tourism in Khunjerab National Park, Northern Pakistan. Animals. 2020 Apr; 10(4): 597. doi: 10.3390/ani10040597
Michel S. Community based conservation and management of mountain ungulates in Tajikistan. Galemys: Boletín informativo de la Sociedad Española para la conservación y estudio de los mamíferos. 2010; 22(1): 469-81.
Prater SH. The book of Indian animals. Bombay natural history society; 1965.
Khan MZ, Begum F, Riaz M, Khan B, Karim R, Ali K, et al. Predicting the potential impacts of trophy hunting on population structure of himalayan ibex (capra sibirica) in Northern Pakistan. Polish Journal of Ecology. 2019 Dec; 67(3): 264-70. doi: 10.3161/15052249PJE2019.67.3.008
Nawaz MA, Din JU, Shah SA, Khan AA. The trophy hunting program: enhancing snow leopard prey populations through community participation. Snow leopards: Biodiversity of the world: Conservation from genes to landscapes. 2016: 220-9.
Bhatnagar YV, Ahmad R, Kyarong SS, Ranjitsinh MK, Seth CM, Lone IA, et al. Endangered markhor Capra falconeri in India: through war and insurgency. Oryx. 2009 Jul; 43(3): 407-11. doi: 10.1017/S0030605309001288
Shackleton DM. Wild sheep and goats and their relatives: status survey and conservation action plan for Caprinae.1997.
Sheikh KM and Molur S. Status and red list of Pakistan's mammals. InBased on the Conservation Assessment and Management Plan Workshop. IUCN Pakistan 2004 Dec.
Arshad M, Qamer FM, Saleem R, Malik RN. Prediction of Kashmir markhor habitat suitability in Chitral Gol National Park, Pakistan. Biodiversity. 2012 Jun; 13(2): 78-87. doi: 10.1080/14888386.2012.684206
Norris KS and Jacobson SK. Content analysis of tropical conservation education programs: Elements of success. The Journal of Environmental Education. 1998 Jan; 30(1): 38-44.
Jacobson SK. Evaluation model for developing, implementing, and assessing conservation education programs: examples from Belize and Costa Rica. Environmental Management. 1991 Mar; 15(2): 143-50. doi: 10.1080/00958969809601862
Loibooki M, Hofer H, Campbell KL, East ML. Bushmeat hunting by communities adjacent to the Serengeti National Park, Tanzania: the importance of livestock ownership and alternative sources of protein and income. Environmental Conservation. 2002 Sep; 29(3): 391-8. doi: 10.1017/S0376892902000279
Schaller GB. Mountain mammals in Pakistan. Oryx. 1976 Jul; 13(4): 351-6. doi: 10.1017/S0030605300014071
Baig MB and Aldosari F. An investigation into the vanishing biodiversity: implications for rural extension. Bulgarian Journal of Agricultural Science. 2012; 18(3): 403-9.
Qasim S, Khan AN, Qasim M. A Comparative Study of Conservation Strategies of Two Selected National Parks from Pakistan & Thailand: Lessons learned from each other. Journal of Managerial Sciences. 2014 Jan; 8(1): 61-75.
Frisina MR. Suleiman markhor (Capra falconeri jerdoni) and Afghan urial (Ovis orientalis cycloceros) population status in the Torghar Hills, Balochistan Province, Pakistan. Society for Torghar Environmental Protection; 2000 Mar.
Woodford MH, Frisina MR, Awan GA. The Torghar conservation project: management of the livestock, Suleiman markhor (Capra falconeri) and Afghan urial (Ovis orientalis) in the Torghar Hills, Pakistan. Game and Wildlife Science. 2004;21(3):177-87.
Frisina MR. Implementing effective rangeland management in Montana: What works?. InProceedings of the Montana Academy of Sciences (USA) 1989; 49: 19-21.
Frisina MR, Woodford MH, Awan GA. Habitat and disease issues of concern to management of straight-horned markhor and Afghan urial in the Torghar Hills, Balochistan Province, Pakistan. unpublished report to STEP and USFWS. 2002.
Saunders J and Reeve R. The EU timber regulation and CITES. Energy, Environment and Resources PP EER. 2014 Apr; 8.
List R. Support the IUCN Red List. 2015 Feb: 1-22
Arshad M, Malik RN, Saqib Z. Assessing potential habitats of Kashmir Markhor in Chitral Gol National Park, Khyber Pakhtunkhwa, Pakistan. Pakistan Journal of Botany. 2013 Jan; 45(S1): 561-70.
Woodford MH, Frisina MR, Awan GA. The Torghar conservation project: management of the livestock, Suleiman markhor (Capra falconeri) and Afghan urial (Ovis orientalis) in the Torghar Hills, Pakistan. Game and Wildlife Science. 2004; 21(3): 177-87.
Martínez-Abraín A and Oro D. Preventing the development of dogmatic approaches in conservation biology: A review. Biological Conservation. 2013 Mar; 159: 539–47. doi: 10.1016/j.biocon.2012.10.020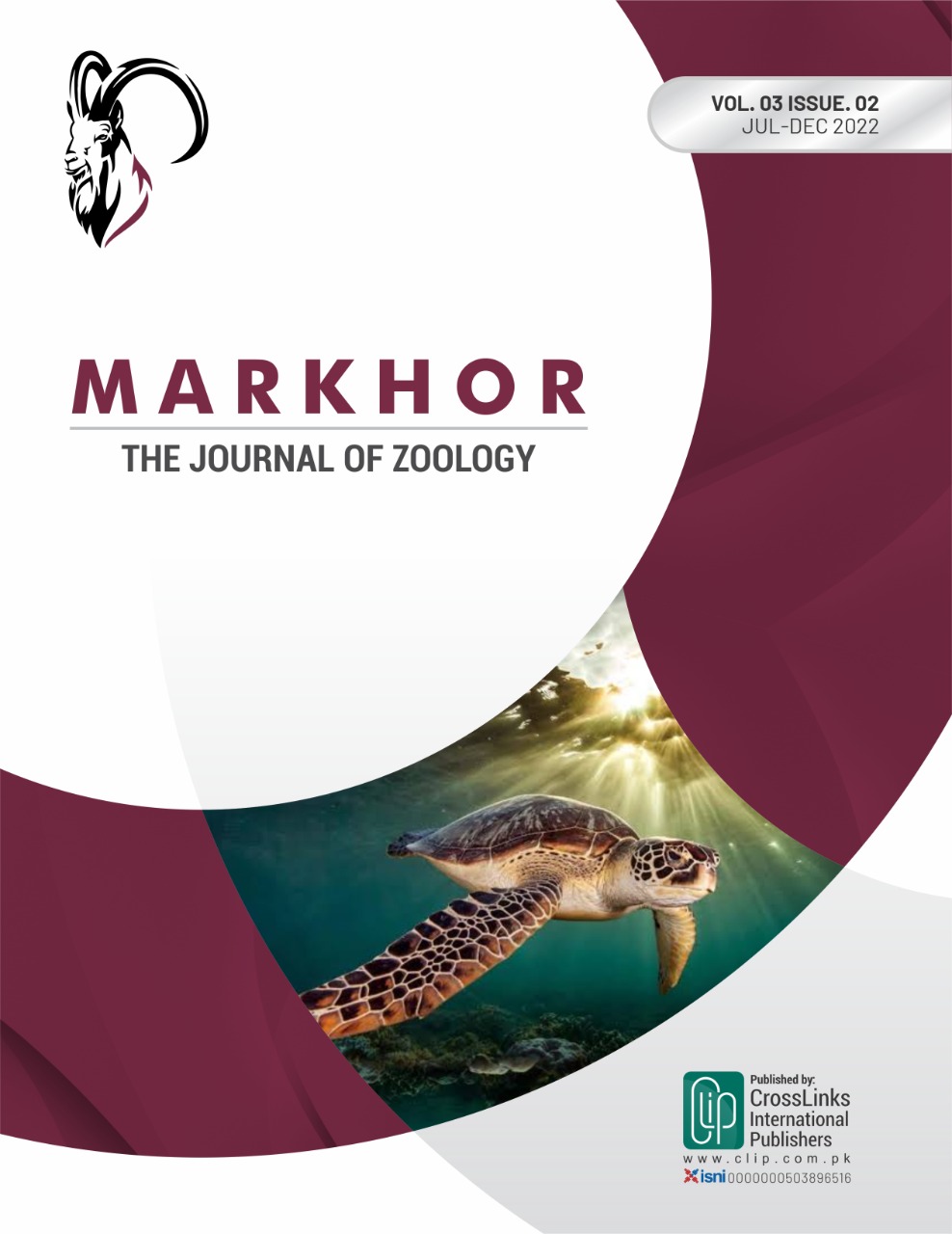 Downloads
How to Cite
Yasmeen, R. ., Hafeez, F. ., Qurashi, A. W. ., Mazhar, S. ., ., A., ., S., Ahmad, F. ., Arif, R. ., Nisar, S. ., Khatoon, A. ., & Ijaz, N. . (2022). Conservation, Management and Threats to Markhor population in Pakistan: An Overview: Markhor Population in Pakistan. MARKHOR (The Journal of Zoology), 3(02), 06–10. https://doi.org/10.54393/mjz.v3i02.38
License
Copyright (c) 2022 MARKHOR (The Journal of Zoology)
This work is licensed under a Creative Commons Attribution 4.0 International License.
This is an open-access journal and all the published articles / items are distributed under the terms of the Creative Commons Attribution License, which permits unrestricted use, distribution, and reproduction in any medium, provided the original author and source are credited. For comments editor@markhorjournal.com