Invitro Study on the Combined Effects of Natural Ingredients and Antimicrobial Drugs as Novel Anti Biofilm Approach
A Novel Anti Biofilm Approach
Keywords:
Biofilms, Antibiotics, Natural ingredients, Microorganism
Abstract
Biofilm forming bacteria stick to one another or to the different surfaces or interface. Biofilm formation is not a good thing in many ways as they go with low metabolic rate and passed with less number of cell divisions. Objective: To find some novel anti-biofilm approaches against biofilms. Methods: Soil and water samples were collected from four sites. Soil samples were collected from agricultural land and road side of Hudiara village, Lahore, Pakistan. However, water samples were collected from BRB canal which is situated in village Barki and from tube well of village Hudiara located in Lahore district Punjab, Pakistan. For biochemical identification of isolates different types of biochemical tests such as MR, VP, SIM (motility), H2S, catalase, Indole and nitrate reduction were performed. Results: Some antibiotics and their combinations with different other antibiotics were checked and it was noticed the overall effects of antibiotics on bacterial biofilms have positive effects except disprin and Levofloxacin. While, Ciprofloxacin was found as an effective antibiotic. Combination of ciprofloxacin and disprin was used in order to remove the biofilm and it worked well to remove the biofilm. Conclusions: Different antimicrobial medications, all-natural compounds, and combinations of various antibiotics, including ciprofloxacin-disprin, clarithromycin-moxifloxacin, and certain all-natural ingredients like honey, ginger, and lemon juice, were utilized to remove bacterial biofilms. Thus, it can be said that most of the combinations produced better biofilm removal outcomes than the individual elements did.
References
Sharafutdinov IS, Trizna EY, Baidamshina DR, Ryzhikova MN, Sibgatullina RR, Khabibrakhmanova AM, et al. Antimicrobial Effects of Sulfonyl Derivative of 2(5H)-Furanone against Planktonic and Biofilm Associated Methicillin-Resistant and -Susceptible Staphylococcus aureus. Frontiers in Microbiology. 2017 Nov; 8:2246. doi: 10.3389/fmicb.2017.02246
von Salm JL, Witowski CG, Fleeman RM, McClintock JB, Amsler CD, Shaw LN, et al. Darwinolide, a New Diterpene Scaffold That Inhibits Methicillin-Resistant Staphylococcus aureus Biofilm from the Antarctic Sponge Dendrilla membranosa. Organic Letters. 2016 Jun; 18(11):2596-9. doi: 10.1021/acs.orglett.6b00979
Beloin C, Renard S, Ghigo JM, Lebeaux D. Novel approaches to combat bacterial biofilms. Current Opinion in Pharmacology. 2014 Oct; 18:61-8. doi: 10.1016/j.coph.2014.09.005
Eneide C, Castagnola R, Martini C, Grande NM, Bugli F, Patini R, et al. Antibiofilm Activity of Three Different Irrigation Techniques: An in Vitro Study. Antibiotics. 2019 Aug; 8(3):112. doi: 10.3390/antibiotics8030112
Donlan RM. Biofilms on central venous catheters: is eradication possible? Current Topics in Microbiology and Immunology. 2008; 322:133-61. doi: 10.1007/978-3-540-75418-3_7
Hatt JK and Rather PN. Role of bacterial biofilms in urinary tract infections. Current Topics in Microbiology and Immunology. 2008; 322:163-92. doi: 10.1007/978-3-540-75418-3_8
Misba L, Zaidi S, Khan AU. Efficacy of photodynamic therapy against Streptococcus mutans biofilm: Role of singlet oxygen. Journal of Photochemistry and Photobiology B: Biology. 2018 Jun; 183:16-21. doi: 10.1016/j.jphotobiol.2018.04.024
Sadekuzzaman M, Yang S, Mizan MF, Ha SD. Current and recent advanced strategies for combating biofilms. Comprehensive Reviews in Food Science and Food Safety. 2015 Jul; 14(4):491-509. doi: 10.1111/1541-4337.12144
Ubeda C, Maiques E, Knecht E, Lasa I, Novick RP, Penadés JR. Antibiotic-induced SOS response promotes horizontal dissemination of pathogenicity island-encoded virulence factors in staphylococci. Molecular Microbiology. 2005 May; 56(3):836-44. doi: 10.1111/j.1365-2958.2005.04584.x
Hartmann R, Jeckel H, Jelli E, Singh PK, Vaidya S, Bayer M, et al. Quantitative image analysis of microbial communities with BiofilmQ. Nature Microbiology. 2021 Feb; 6(2):151-156. doi: 10.1038/s41564-020-00817-4
Singh MP, Singh P, Li HB, Song QQ, Singh RK. Microbial biofilms: development, structure, and their social assemblage for beneficial applications. InNew and Future Developments in Microbial Biotechnology and Bioengineering: Microbial Biofilms 2020 Jan (pp. 125-138). Elsevier. doi: 10.1016/B978-0-444-64279-0.00010-4
Brady A, Felipe-Ruiz A, Gallego Del Sol F, Marina A, Quiles-Puchalt N, Penadés JR. Molecular Basis of Lysis-Lysogeny Decisions in Gram-Positive Phages. Annual Review of Microbiology. 2021 Oct; 75:563-581. doi: 10.1146/annurev-micro-033121-020757
Kim BS, Park SJ, Kim MK, Kim YH, Lee SB, Lee KH, et al. Inhibitory Effects of Chrysanthemum boreale Essential Oil on Biofilm Formation and Virulence Factor Expression of Streptococcus mutans. Evidence Based Complementary and Alternative Medicine. 2015; 2015:616309. doi: 10.1155/2015/616309
Karaca B, Cihan AÇ, Akata I, Altuner EM. Anti-biofilm and antimicrobial activities of five edible and medicinal macrofungi samples on some biofilm producing multi drug resistant Enterococcus strains. Turkish Journal of Agriculture-Food Science and Technology. 2020 Jan; 8(1):69-80.
Marchese A, Arciola CR, Coppo E, Barbieri R, Barreca D, Chebaibi S, et al. The natural plant compound carvacrol as an antimicrobial and anti-biofilm agent: mechanisms, synergies and bio-inspired anti-infective materials. Biofouling. 2018 Jul; 34(6):630-656. doi: 10.1080/08927014.2018.1480756
Kang J, Jin W, Wang J, Sun Y, Wu X, Liu L. Antibacterial and anti-biofilm activities of peppermint essential oil against Staphylococcus aureus. Lebensmittel-Wissenschaft and Technologie. 2019 Mar; 101:639-45. 10.1016/j.lwt.2018.11.093
Van Kerckhoven M, Hotterbeekx A, Lanckacker E, Moons P, Lammens C, Kerstens M, et al. Characterizing the in vitro biofilm phenotype of Staphylococcus epidermidis isolates from central venous catheters. Journal of Microbiological Methods. 2016 Aug; 127:95-101. doi: 10.1016/j.mimet.2016.05.009
Mizdal CR, Stefanello ST, da Costa Flores V, Agertt VA, Bonez PC, Rossi GG, et al. The antibacterial and anti-biofilm activity of gold-complexed sulfonamides against methicillin-resistant Staphylococcus aureus. Microbial Pathogenesis. 2018 Oct; 123:440-448. doi: 10.1016/j.micpath.2018.08.002
Sojka M, Valachova I, Bucekova M, Majtan J. Antibiofilm efficacy of honey and bee-derived defensin-1 on multispecies wound biofilm. Journal of Medical Microbiology. 2016 Apr; 65(4):337-344. doi: 10.1099/jmm.0.000227
Rendueles O, Kaplan JB, Ghigo JM. Antibiofilm polysaccharides. Environmental Microbiology. 2013 Feb; 15(2):334-46. doi: 10.1111/j.1462-2920.2012.02810.x
Sun Y, Chen S, Zhang C, Liu Y, Ma L, Zhang X. Effects of sub-minimum inhibitory concentrations of lemon essential oil on the acid tolerance and biofilm formation of Streptococcus mutans. Archives of Oral Biology. 2018 Mar; 87:235-241. doi: 10.1016/j.archoralbio.2017.12.028
Lee JH, Kim YG, Choi P, Ham J, Park JG, Lee J. Antibiofilm and Antivirulence Activities of 6-Gingerol and 6-Shogaol Against Candida albicans Due to Hyphal Inhibition. Frontiers in Cellular Infection and Microbiology. 2018 Aug; 8:299. doi: 10.3389/fcimb.2018.00299
Choi H, Ham SY, Cha E, Shin Y, Kim HS, Bang JK, et al. Structure-Activity Relationships of 6- and 8-Gingerol Analogs as Anti-Biofilm Agents. Journal of Medical Chemistry. 2017 Dec; 60(23):9821-9837. doi: 10.1021/acs.jmedchem.7b01426
Rabin N, Zheng Y, Opoku-Temeng C, Du Y, Bonsu E, Sintim HO. Biofilm formation mechanisms and targets for developing antibiofilm agents. Future Medicinal Chemistry. 2015; 7(4):493-512. doi: 10.4155/fmc.15.6
Endersen L, Buttimer C, Nevin E, Coffey A, Neve H, Oliveira H, et al. Investigating the biocontrol and anti-biofilm potential of a three phage cocktail against Cronobacter sakazakii in different brands of infant formula. International Journal of Food Microbiology. 2017 Jul; 253:1-11. doi: 10.1016/j.ijfoodmicro.2017.04.009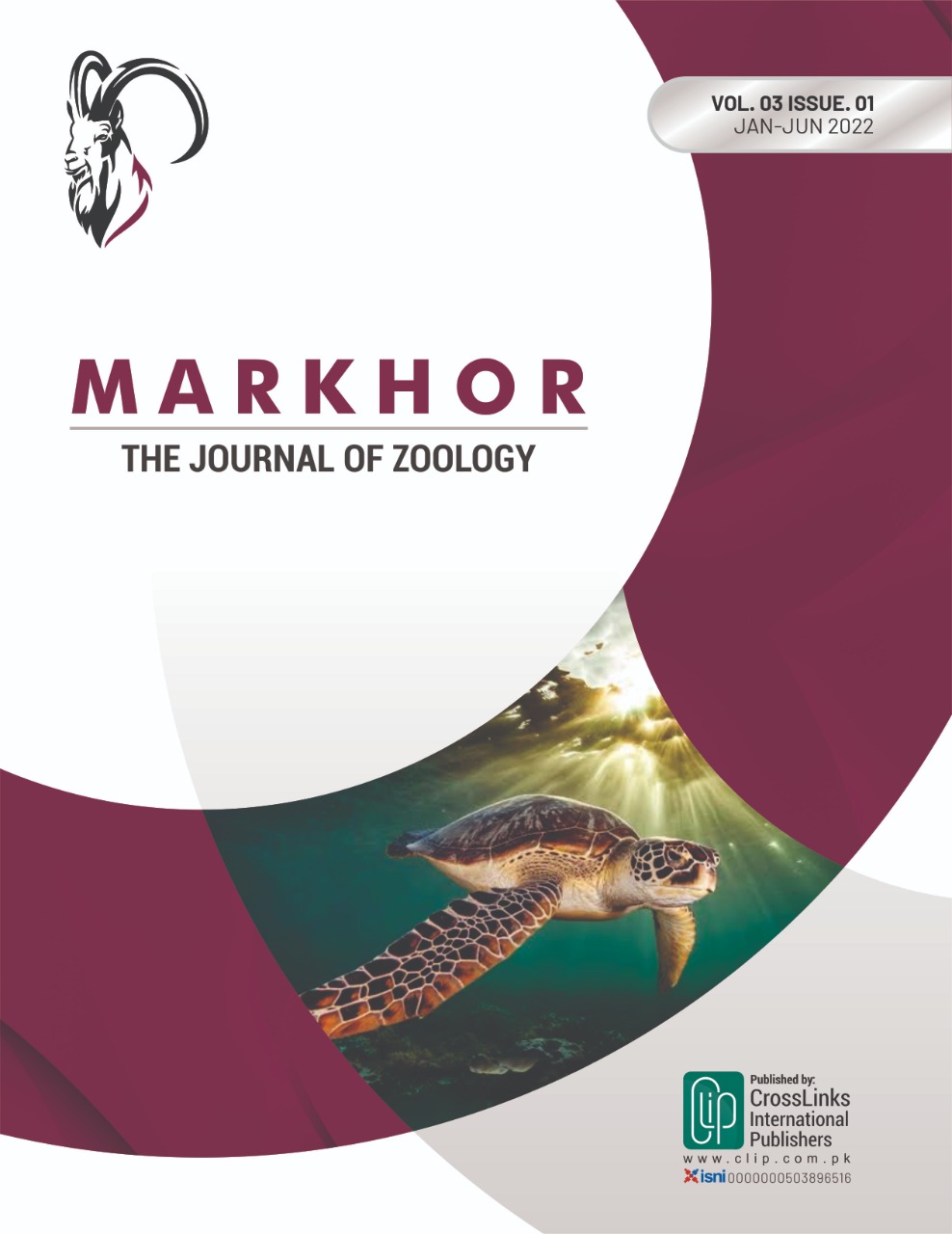 Downloads
CITATION
DOI: 10.54393/mjz.v3i1.43
How to Cite
Kehkashan, ., Ashraf, A. ., Chaudhry, A. ., & Yasmeen, R. . (2022). Invitro Study on the Combined Effects of Natural Ingredients and Antimicrobial Drugs as Novel Anti Biofilm Approach: A Novel Anti Biofilm Approach. MARKHOR (The Journal of Zoology), 3(1), 19–24. https://doi.org/10.54393/mjz.v3i1.43
License
Copyright (c) 2022 MARKHOR (The Journal of Zoology)
This work is licensed under a Creative Commons Attribution 4.0 International License.
This is an open-access journal and all the published articles / items are distributed under the terms of the Creative Commons Attribution License, which permits unrestricted use, distribution, and reproduction in any medium, provided the original author and source are credited. For comments editor@markhorjournal.com