Prevalence and Associated Factors of Scabies In An Urban Slum Area, Islamabad
Scabies in scabies in an urban Slum area
Keywords:
Scabies, Infection, Prevalence, Pakistan
Abstract
Scabies is a parasite infection that affects both men and women of all races and socioeconomic backgrounds. Scabies traditionally affects the hands, between the fingers, wrists, elbows, shoulders, genital areas, and breasts in women. Prolonged skin-to-skin contact, hand-holding, or sexual contact are the most prevalent modes of transmission. Scabies is a sexually transmitted illness because transmission takes 15-20 minutes of close contact. Objective: To assess the prevalence and associated factors of scabies in an urban slum in Islamabad. Methods: A cross-sectional descriptive study was carried out in a slum area of Islamabad. A simple random sampling technique was used for the selection of households. The sample size was 397. A specially designed, semi-structured questionnaire was developed by the researcher to collect information on all study variables related to demography and other variables related to scabies. The collected data thus collected were entered and analyzed in IBM SPSS (Statistical Package for Social Sciences) version 21. The results were produced in the form of frequency, percentages, valid percentages and cumulative percentages, graphs and tables and tabulated form. Results: The results showed that 57% of population was suffering from scabies at the time of the study. Gender (male) (p-value 0.286), marital status (married) (p-value 0.126), educational status (illiterate) (p-value 0.005), income (<6000) (p-value 0.005), and length of residence (>2 years) (p-value 0.000) were significantly associated with scabies.  Conclusions: It is concluded that there was a high prevalence of scabies in the study population. Gender, marital status, educational status, income, and length of residence were strongly associated with the prevalence of scabies in that population while a number of people living in one room (overcrowding) was not associated with the prevalence of scabies.
References
Nair PA, Vora RV, Jivani NB and Gandhi SS. A Study of Clinical Profile and Quality of Life in Patients with Scabies at a Rural Tertiary Care Centre. J Clin Diagn Res. 2016;10(10):WC01-WC05. doi: 10.7860/JCDR/2016/20938.8703.
Nair KP. Letter: Scabies eradication: national policy needed. Indian Pediatr. 1973;10(12):749.
Orkin M and Maibach HI. Scabies in children. Pediatric Clinics of North America. 1978;25(2):371-86. doi.org/10.1016/S0031-3955(16)33573-8.
Heukelbach J, Wilcke T, Winter B and Feldmeier H. Epidemiology and morbidity of scabies and pediculosis capitis in resource-poor communities in Brazil. Br J Dermatol. 2005;153(1):150-6. doi: 10.1111/j.1365-2133.2005.06591.x.
Mellanby K. The development of symptoms, parasitic infection and immunity in human scabies. Parasitology. 1944;35(4):197-206. doi:10.1017/S0031182000021612.
Cox NH. Permethrin treatment in scabies infestation: importance of the correct formulation. BMJ. 2000;320(7226):37-38. doi:10.1136/bmj.320.7226.37.
Victoria J and Trujillo R. Topical ivermectin: a new successful treatment for scabies. Pediatr Dermatol. 2001;18(1):63-5. doi: 10.1046/j.1525-1470.2001.018001063.x.
Figueroa JI, Fuller LC, Abraha A and Hay RJ. Dermatology in southwestern Ethiopia: rationale for a community approach. Int J Dermatol. 1998;37(10):752-8. doi: 10.1046/j.1365-4362.1998.00425.x.
Mimouni D, Ankol OE, Davidovitch N, Gdalevich M, Zangvil E and Grotto I. Seasonality trends of scabies in a young adult population: a 20-year follow-up. Br J Dermatol. 2003;149(1):157-9. doi: 10.1046/j.1365-2133.2003.05329.x.
Andrews RM, McCarthy J, Carapetis JR and Currie BJ. Skin disorders, including pyoderma, scabies, and tinea infections. Pediatr Clin North Am. 2009;56(6):1421-40. doi: 10.1016/j.pcl.2009.09.002.
McDonald M, Currie BJ and Carapetis JR. Acute rheumatic fever: a chink in the chain that links the heart to the throat? Lancet Infect Dis. 2004;4(4):240-5. doi: 10.1016/S1473-3099(04)00975-2.
Chosidow O. Clinical practices. Scabies. N Engl J Med. 2006;354(16):1718-27. doi: 10.1056/NEJMcp052784.
Shamim SM. Scabies: A common skin problem often misdiagnosed. J Pak Assoc Derma. 2000;10(3):12-8.
Mahé A, Prual A, Konaté M and Bobin P. Skin diseases of children in Mali: a public health problem. Transactions of the Royal Society of Tropical Medicine and Hygiene. 1995;89(5):467-70. doi.org/10.1016/0035-9203(95)90068-3.
Walton SF, Dougall A, Pizzutto S, Holt D, Taplin D and Arlian LG et al. Genetic epidemiology of Sarcoptes scabiei (Acari: Sarcoptidae) in northern Australia. International journal for parasitology. 2004;34(7):839-49. doi.org/10.1016/j.ijpara.2004.04.002.
Azene AG, Aragaw AM and Wassie GT. Prevalence and associated factors of scabies in Ethiopia: systematic review and Meta-analysis. BMC Infect Dis. 2020;20(1):380. doi: 10.1186/s12879-020-05106-3.
Savin JA. Scabies in Edinburgh from 1815 to 2000. J R Soc Med. 2005;98(3):124-129. doi:10.1258/jrsm.98.3.124.
Burkhart CG, Burkhart CN and Burkhart KM. An epidemiologic and therapeutic reassessment of scabies. Cutis. 2000;65(4):233-40.
Terry BC, Kanjah F, Sahr F, Kortequee S, Dukulay I and Gbakima AA. Sarcoptes scabiei infestation among children in a displacement camp in Sierra Leone. Public Health. 2001;115(3):208-11. doi: 10.1038/sj/ph/1900748.
PAKISTAN: Millions of IDPs and returnees face continuing crisis. A profile of the internal displacement situation. 2009. https://reliefweb.int/sites/reliefweb.int/files/resources/79DA1DDE2DA98FF785257680005EFEAC-Full_Report.pdf
Rotti SB, Prabhu GD and Rao GV. Prevalence of Scabies Among School Children in a Rural Block of Coastal Karnataka. Indian Journal of Dermatology, Venereology and Leprology. 1985;51(1):35-7.
Muhammad Zayyid M, Saidatul Saadah R, Adil AR, Rohela M and Jamaiah I. Prevalence of scabies and head lice among children in a welfare home in Pulau Pinang, Malaysia. Trop Biomed. 2010;27(3):442-6.
Pruksachatkunakorn C, Wongthanee A and Kasiwat V. Scabies in Thai orphanages. Pediatr Int. 2003;45(6):724-7. doi: 10.1111/j.1442-200x.2003.01811.x.
Dagne H, Dessie A, Destaw B, Yallew WW and Gizaw Z. Prevalence and associated factors of scabies among schoolchildren in Dabat district, northwest Ethiopia, 2018. Environ Health Prev Med. 2019;24(1):67. doi: 10.1186/s12199-019-0824-6.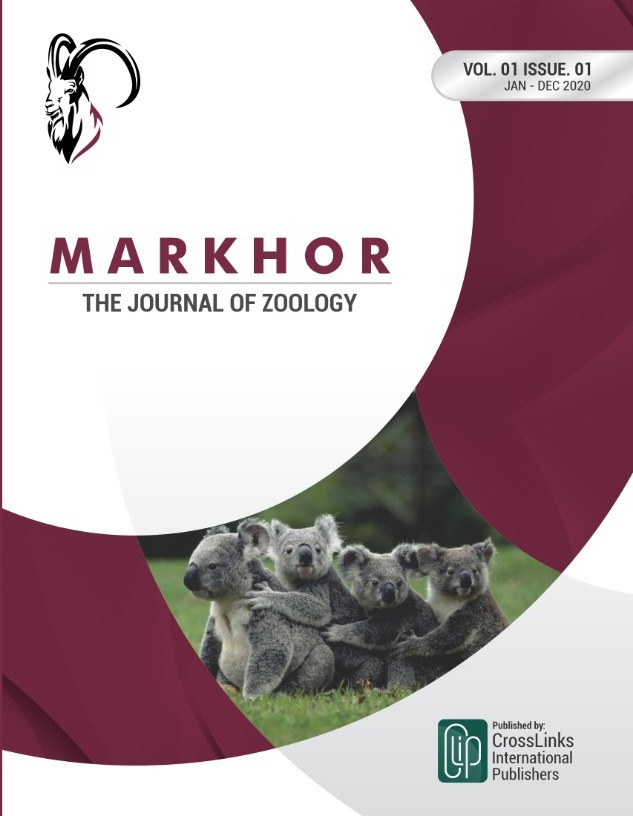 Downloads
How to Cite
Faridi, T. A. ., & Rathor, H. R. (2020). Prevalence and Associated Factors of Scabies In An Urban Slum Area, Islamabad: Scabies in scabies in an urban Slum area. MARKHOR (The Journal of Zoology), 1(2), 08–13. https://doi.org/10.54393/mjz.v1i2.4
License
Copyright (c) 2020 MARKHOR (The Journal of Zoology)
This work is licensed under a Creative Commons Attribution 4.0 International License.
This is an open-access journal and all the published articles / items are distributed under the terms of the Creative Commons Attribution License, which permits unrestricted use, distribution, and reproduction in any medium, provided the original author and source are credited. For comments editor@markhorjournal.com