Attitude Regarding Dengue Vector Control Among the Community of Tehsil Sahiwal, Sargodha
Keywords:
Knowledge, attitude, dengue, vector control, community
Abstract
Dengue fever is one of the most threatening vector borne diseases, causing severe epidemics and has brought the world to take serious steps for its control and prevention. Objective: The objectives of the study are to assess the attitudes regarding dengue vector control among community of Tehsil Sahiwal, District Sargodha Methods: It was a community based and cross-sectional study in which 384 residents of Tehsil Sahiwal of District Sargodha were included. Simple random sampling technique was used. Data was collected through questionnaire, which was entered and statistically analyzed using SPSS 20.0. Frequency tables were generated for all possible variables. For quantitative data like age and income, mean and standard deviation were calculated and for qualitative data like sex, education, occupation percentages were calculated. Written consent was taken from respondents.Results: Among 384 respondents, mean age was 37.35 + 11.67 years. 69.8% respondents were males. 58.1% respondents had overall good attitude and 41.9% had poor attitude. Among 207 respondents who had overall good knowledge, 199 (51.8%) had good attitude and 8 (2.1%) had poor attitude Conclusions: Study concluded that attitude regarding dengue vector control among community was found satisfactory 58.1% had overall good attitude.
References
Shuaib F, Todd D, Campbell-Stennett D, Ehiri J, Jolly PE. Knowledge, attitudes and attitudes regarding dengue infection in Westmoreland, Jamaica. West Indian Med J. 2010; 59(2): 139-146.
Valantine B, Kumar RP, Vasudevan S, Sureshbabu J, Singh Z. Cross sectional study on knowledge, attitude and attitude regarding dengue among adult population visiting a tertiary care hospital in Puducherry, India. Int J Community Med Public Health. 2017; 4: 623-627. doi: 10.4103/jfmpc.jfmpc_327_21
Arora P, Arora M, Sharma V, Kotwal A. Dengue: awareness, preventive attitudes and water storage behavior in an urban community of Delhi. Int J Community Med Public Health. 2017; 4: 4460-4465. dx.doi.org/10.18203/2394-6040.ijcmph20175148
Alobuia WM, Missikpode C, Aung M, Jolly PE. Knowledge, attitude, and attitudes regarding vector-borne diseases in Western Jamaica. Ann Glob Health. 2015; 81(5): 654-663. doi: 10.1016/j.aogh.2015.08.013.
World Health Organization. Dengue and severe dengue. Available at: https://www.who.int/news-room/fact-sheets/detail/dengue-and-severe-dengue.2017
Alves AC, dal Fabbro AL, Passos ADC, Carneiro AFTM, Jorge TM, Martinez EZ. Knowledge and attitudes related to dengue and its vector: a community-based study from Southeast Brazil. Rev Soc Bras Med Trop. 2016; 49(2): 222-226. doi: 10.1590/0037-8682-0240-2015.
Nazareth T, Teodósio R, Porto G, Gonçalves L, Seixas G, Silva AC, et al. Strengthening the perception-assessment tools for dengue prevention: a cross-sectional survey in a temperate region (Madeira, Portugal). BMC Public Health. 2014; 14: 39. doi.org/10.1186/1471-2458-14-39
Jansen CC, Beebe NW: The dengue vector Aedes aegypti: what comes next. Microbes Infect. 2010, 12: 272-279. doi: 10.1016/j.micinf.2009.12.011.
Abbas A, Abbas RZ, Khan JA, Iqbal Z, Bhatti MMH, Sindhu ZUD, et al. Integrated strategies for the control and prevention of dengue vectors with particular reference to Aedes aegypti. Pak Vet J. 2014; 34(1): 1-10.
Vanlerberghe V, Toledo ME, Rodríguez M, Gómez D, Baly A, Benítez JR, et al. Community involvement in dengue vector control: cluster randomized trial. MEDICC Rev. 2010; 12: 41-47.
Pérez-Guerra CL, Zielinski-Gutierrez E, Vargas-Torres D, Clark GG. Community beliefs and practices about dengue in Puerto Rico. Rev Panam Salud Publica. 2009; 25: 218-226. doi: 10.1590/s1020-49892009000300005.
Shriram AN, Sugunan AP, Manimunda SP, Vijayachari P. Community-centred approach for the control of Aedes spp in a peri-urban zone in the Andaman and Nicobar Islands using temephos. Natl Med J Ind. 2009; 22: 116-120.
Baly A, Toledo ME, Boelaert M. Cost-effectiveness of Aedes aegypti control programmes participatory versus vertical. Trans R Soc Trop Med Hyg. 2007; 101: 578-586. doi: 10.1016/j.trstmh.2007.01.002.
Nagoor K, Babu SD, Reddy BN, Kahn S, Kalluri RJ, John KR. Knowledge, attitude and practice on dengue fever and its prevention and control measures in urban slums of South India. Int J Community Med Public Health. 2017; 4: 3013-3017. dx.doi.org/10.18203/2394-6040.ijcmph20173363
Rehman AR, Mahmood MA, Kazmi SF, Munir F, Ghani U. Dengue fever; impact of knowledge on preventive practice. Ann Pak Inst Med Sci. 2015; 11(4): 195-201. doi: 10.1371/journal.pone.0252852
Chinnakali P, Gurnani N, Upadhyay RP, Parmar K, Suri TM, Yadav K. High level of awareness but poor practices regarding dengue fever control: a cross-sectional study from North India. North Am J Med Sci. 2012; 4: 278-282. doi: 10.4103/1947-2714.97210
Koenraadt CJM, Tuiten W, Sithiprasasna R, Kijchalao U, Jones JW, Scott TW. Dengue knowledge and practices and their impact on Aedes aegypti populations in Kamphaeng Phet, Thailand. Am J Trop Med Hyg. 2006; 74(4): 692-700.
Diaz-Quijano FA, Martínez-Vega RA, Rodriguez-Morales AJ, Rojas-Calero RA, Luna-González ML, Díaz-Quijano RG. Association between the level of education and knowledge, attitudes and practices regarding dengue in the Caribbean region of Colombia. BMC Public Health. 2018; 18: 143. doi: 10.1186/s12889-018-5055-z.
NurAin M, Azfar M, Omarulharis S, Azfar H, Maryam A, Hafizah S, et al. Knowledge, attitude and attitude of dengue prevention among sub urban community in Sepang, Selangor. Int J Public Health Clin Sci. 2017; 4(2): 73-83
Sayavong C, Chompikul J, Wongsawass S, Rattanapan C. Knowledge, attitudes and preventive behaviors related to dengue vector breeding control measures among adults in communities of Vientiane, capital of the Lao PDR. J Infect Public Health. 2015; 8: 466-473. doi: 10.1016/j.jiph.2015.03.005
Said MFF, Abdullah H, Ghafar NA. Dengue prevention practices among community in dengue hotspot area. Int J Community Med Public Health. 2018; 5: 4664-4669. dx.doi.org/10.18203/2394-6040.ijcmph20184553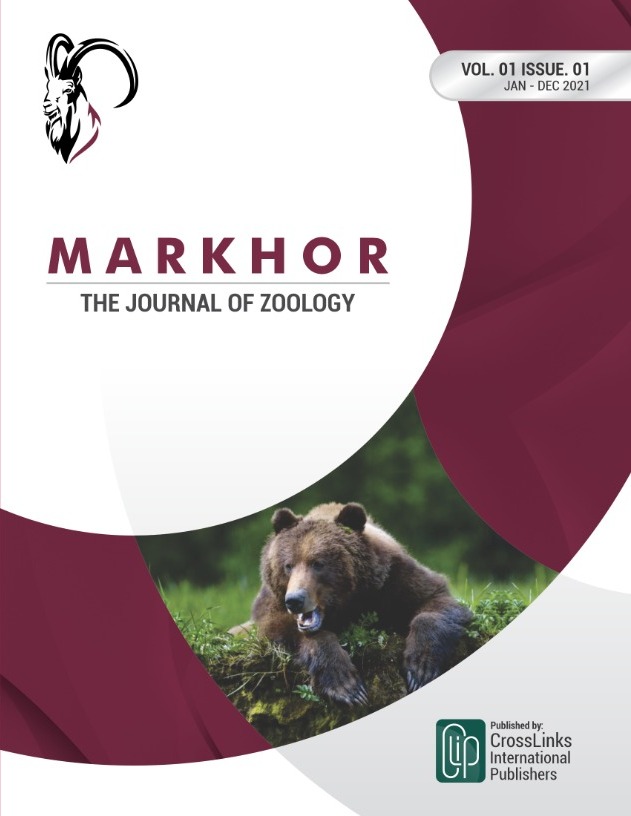 Downloads
How to Cite
Aslam, M., Faridi, T. A. ., Hameed, S., John, A., & Hassan, S. B. (2021). Attitude Regarding Dengue Vector Control Among the Community of Tehsil Sahiwal, Sargodha. MARKHOR (The Journal of Zoology), 2(2), 40–46. https://doi.org/10.54393/mjz.v2i2.22
License
Copyright (c) 2021 MARKHOR (The Journal of Zoology)
This work is licensed under a Creative Commons Attribution 4.0 International License.
This is an open-access journal and all the published articles / items are distributed under the terms of the Creative Commons Attribution License, which permits unrestricted use, distribution, and reproduction in any medium, provided the original author and source are credited. For comments editor@markhorjournal.com