Study of Various Ectoparasites from Sperata Sarwari (Singharee) Obtained from Various Areas of Lahore, Pakistan
Ectoparasites From Sperata sarwari (Singharee) Obtained From Lahore
Keywords:
Sperata sarwari, Body Length, Body Weight, Lernaea, Prevalence
Abstract
Singhari Sperata sarwari is an Indus catfish (family Bagridae) present in Pakistan and Indus drainage system in India. Objective: To check the Prevalence of ectoparasites on Singhari (Sperata sarwari) fish. Methods: A sample of 30 specimens of a freshwater catfish, Sperata sarwari was collected from different areas of Lahore, Pakistan, during December 2017 to May 2018. Total 30 fish were examined for ectoparasites. Out of 30 fish, only 08 were diseased with Lernaea. Results: The total prevalence of Lernaea was 26.66%. Lernaea had highest prevalence (37.5%) in 1000-1200g body weight of fish group, while it was lowest (16.66%) in 100-300g body weight fish group. Lernaea showed highest prevalence (33.33%) in fish length group of 66-85cm, while the least prevalence (14.28%) existed in 25-45cm fish length group. It was also observed that Lernaea showed seasonal variations and it was maximum in winter, (33.33%) in January and minimum in spring and summer (20%) in March and (0%) in April. Conclusions: The results indicated that Singhari fish with more weight and long length had more prevalence of infection as compared to less weight and shorter length. This could be due to access of greater area available to parasites for anchoring and hiding on the large sized fish.
References
Ekanem AP, Eyo VO, Sampson AF. Parasites of landed fish from Great Kwa river, Calabar, cross river state, Nigeria. International Journal of Fisheries and Aquaculture. 2011 Nov; 3(12): 225-30. doi: 10.5897/IJFA11.072
Cengizler İ, Aytac N, Sahan A, Ozak AA, Ercüment GE. Ecto-endo parasite investigation on mirror carp (Cyprinus carpio L., 1758) captured from the river Seyhan, Turkey. Ege Journal of Fisheries and Aquatic Sciences. 2001 Mar; 18(1): 87-90.
Shinde SE, Pathan TS, Bhandare RY, Sonawane DL. Ichthyofaunal Diversity of Harsool Savangi Dam, District Aurangabad,(MS) India. World Journal of Fish Marine Sci. 2009; 1(3): 141-3. doi:
Buchmann K and Lindenstrøm T. Interactions between monogenean parasites and their fish hosts. International Journal for Parasitology. 2002 Mar; 32(3): 309-19. doi: 10.1016/s0020-7519(01)00332-0
Rahman MA, Arshad A, Amin SN. Evaluation of growth and production of the threatened giant river catfish, Sperata seenghala (Sykes) in polyculture with indigenous major carps. African Journal of Biotechnology. 2011 Aug; 10(15): 2999-3008. doi: 10.5897/AJB10.1979
Saini A, Dua A, Mohindra V. Comparative morphometrics of two populations of giant river catfish (Mystus seenghala) from the Indus river system. Integrative Zoology. 2008 Sep; 3(3): 219-26. doi: 10.1111/j.1749-4877.2008.00099.x
Seth RN and Kathia PK. Observations on riverine seed resources of a large catfish Aorichthys seenghala (Sykes). Journal of the Inland Fisheries Society of India. 2001; 33: 81-6.
Tasawar Z, Umer K, Hayat CS. Observations on lernaeid parasites of Catla catla from a fish hatchery in Muzaffargarh, Pakistan. Pakistan Veterinary Journal. 2007; 27(1): 17-19.
Tasawar Z, Zafar S, Lashari MH, Hayat CS. The prevalence of lernaeid ectoparasites in grass carp (Ctenopharyngodon idella). Pakistan Veterinary Journal. 2009 Jun; 29(2): 95-96.
Chisholm LA, Morgan JA, Adlard RD, Whittington ID. Phylogenetic analysis of the Monocotylidae (Monogenea) inferred from 28S rDNA sequences. International Journal for Parasitology. 2001 Sep; 31(11): 1253-63. doi: 10.1016/S0020-7519(01)00223-5
Kir I. The effects of parasites on the growth of the crucian carp (Carassius carassius L., 1758) inhabiting the Kovada Lake. Turkiye Parazitolojii Dergisi. 2007 Jan; 31(2): 162-4.
Mattwes RA. Parasites and Diseases of Fish Cultured in the Tropics. By Z. Kabata. 318 pages. ISBN 0 85066 285 0. Taylor and Francis, London, 1985. Parasitology. 1985 Dec; 91(3): 648–648. doi: 10.1017/s0031182000062880
Jalali B and Barzegar M. Fish parasites in Zarivar lake. Journal of Agricultural Science and Technology, 2006 Feb; 8: 47-58.
Tasawar Z, Arshad M, Hayat S. Copepod Ectoparasites of Labeo rohita. Journal of Biological Sciences, 2001 Jun; 1(7): 676-677. doi: 10.3923/jbs.2001.676.677
Tasawar Z, Hanif M, Lashari MH, Hayat CS. The prevalence of lernaeid ectoparasites in Mori (Cirrhinus mrigala) fish. Pakistan Veterinary Journal. 2007; 27(4):176-178.
Whitaker Jr JO and Schlueter RA. Occurence of the crustacean parasite, Lernaea cyprinacea, on fishes from the White River at Petersburg, Indiana. American Midland Naturalist. 1975 Apr; 93(2): 446-50. doi:10.2307/2424178
Kouamélan EP, Teugels GG, N'douba V, Gooré Bi G, Koné T. Fish diversity and its relationships with environmental variables in a West African basin. Hydrobiologia. 2003 Sep; 505(1): 139-46. doi: 10.1023/B:HYDR.0000007302.74296.84
Knudsen R, Amundsen PA, Jobling M, Klemetsen A. Differences in pyloric caeca morphology between Arctic charr Salvelinus alpinus ecotypes: adaptation to trophic specialization or parasite‐induced phenotypic modifications?. Journal of Fish Biology. 2008 Jul; 73(1): 275-87. doi: 10.1111/j.1095-8649.2008.01934.x
Okyere I, Aheto DW, Aggrey-Fynn J. Pelagia Research Library. European Journal of Experimental Biology. 2011; 1(2):178-88.
Binning SA, Roche DG, Layton C. Ectoparasites increase swimming costs in a coral reef fish. Biology Letters. 2013 Feb; 9(1): 20120927. doi: 10.1098/rsbl.2012.0927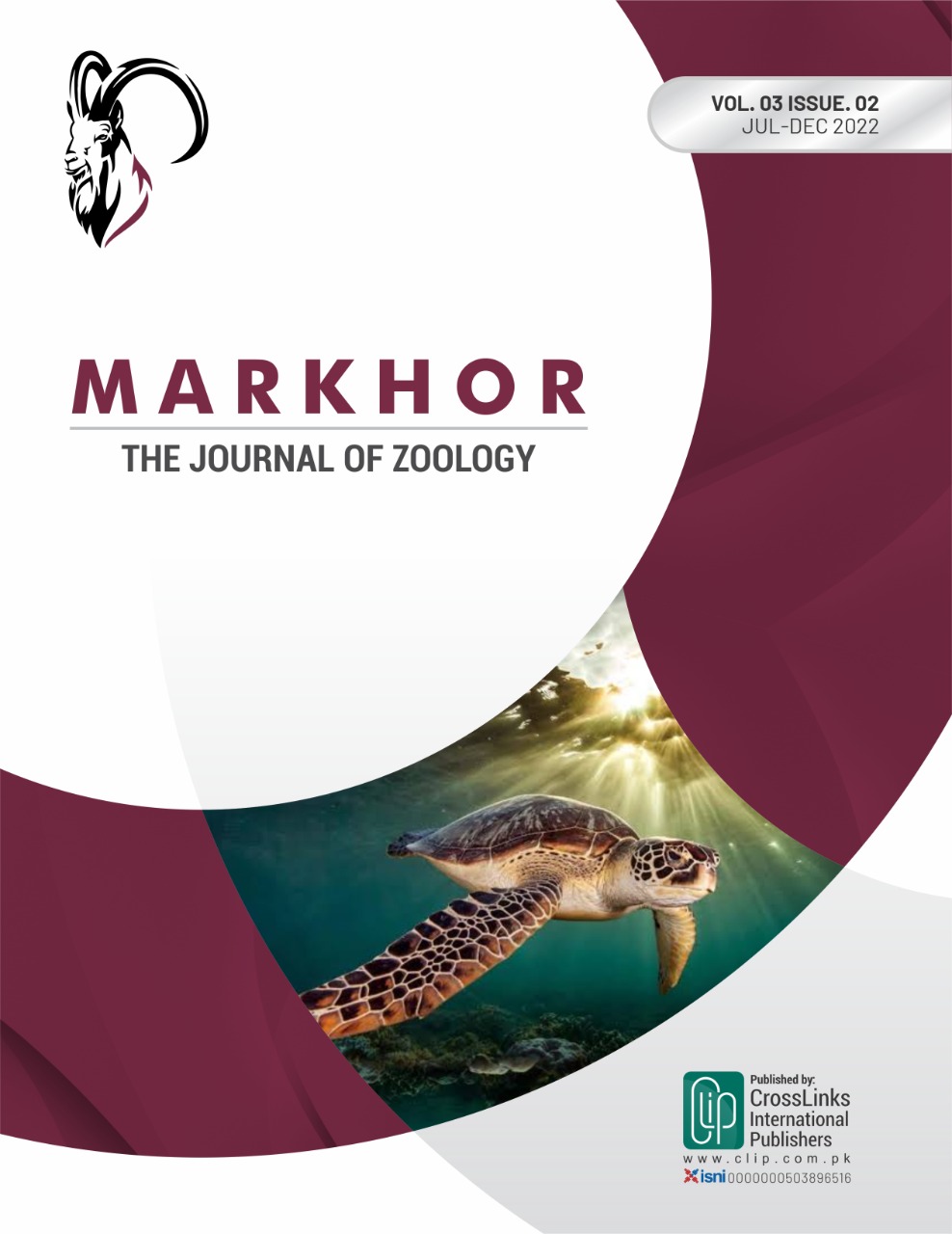 Downloads
How to Cite
Batool, T. ., Abdul Latif, A. ., & Sarwar, S. . (2022). Study of Various Ectoparasites from Sperata Sarwari (Singharee) Obtained from Various Areas of Lahore, Pakistan: Ectoparasites From Sperata sarwari (Singharee) Obtained From Lahore. MARKHOR (The Journal of Zoology), 3(02), 16–19. https://doi.org/10.54393/mjz.v3i02.54
License
Copyright (c) 2022 MARKHOR (The Journal of Zoology)
This work is licensed under a Creative Commons Attribution 4.0 International License.
This is an open-access journal and all the published articles / items are distributed under the terms of the Creative Commons Attribution License, which permits unrestricted use, distribution, and reproduction in any medium, provided the original author and source are credited. For comments editor@markhorjournal.com