Street Vended Juices as A Risk Factor of Microbial Diseases in District Mardan, Pakistan
Street Vended Juices as A Risk Factor of Microbial Diseases
Keywords:
Street Vended Food, Microbial Contamination, Mardan, Pakistan
Abstract
In public spaces like streets and other outdoor areas, merchants prepare and sell foods and drinks for sale. The Food and Agriculture Organization estimates that 2.5 million individuals eat street food every day. Objective: To study the assessment of microbial contamination of juices vended in streets in District Mardan of Pakistan. Methods: 315 samples comprising juices of sugarcane, pomegranate, jaggery, plum, mango, banana and apples were aseptically collected from three Tehsils of district Mardan including Katlang, Takht Bhai and Mardan. Results: Analysis of the samples revealed that 96% of juices had high loads of bacterial pathogens such as Coliforms (96.82%), Staphylococcus (81.90%), Salmonella (64.76%). In Tehsil Katlang and Takht Bhai all collected samples were contaminated while in Mardan Tehsil 87.6% bacterial contamination was observed. Very high number of coliforms were observed in sugarcane, apple juices and Jaggery, Salmonella counts were highest 21.05x102 cfu/ml in Jagerry and Staphylococcus growth was highest in sugarcane 1.22x103 cfu/ml. Conclusions: It was noted that coliforms contamination is significantly higher as compared to other two bacteria indicating sewage water mixing in water used for preparation or handling of these juices. To prevent future food-borne infections, it is advised that frequent inspection of the quality of juices sold on the street be done.
References
Smith B. Food and Agriculture Organization of the United Nations Rome.
Nutrition education for the public. 1997. Available at: https://www.fao.org/publications/card/en/c/9258f363-37bb-55bc-83cd-146e9ea8cace/.
Nicolas B, Razack BA, Yollande I, Aly S, Tidiane OC, Philippe NA, et al. Street-vended foods improvement: Contamination mechanisms and application of Food Safety Objective Strategy: Critical review. Pakistan Journal of Nutrition. 2007 Jan; 6(1): 1-10. doi: 10.3923/pjn.2007.1.10.
Bagde NI, and Tumane PM. Studies on microbial flora of fruit juices and cold drinks. Asiatic Journal of Biotechnology Resources. 2011; 2(4): 454-60.
Ukwo SP, Ndaeyo NU, Udoh EJ. Microbiological quality and safety evaluation of fresh juices and edible ice sold in Uyo Metropolis, South-South, Nigeria. Internet Journal of Food Safety. 2011 Jan; 13(1): 374-8.
Al-Jedah JH,and Robinson RK. Nutritional value and microbiological safety of fresh fruit juices sold through retail outlets in Qatar. Pakistan Journal of Nutrition. 2002 Feb; 1(2): 79-81. doi: 10.3923/pjn.2002.79.81.
Mahale DP, Khade RG, Vaidya VK. Microbiological analysis of street vended fruit juices from Mumbai city, India. Internet Journal of Food Safety. 2008; 10(9): 31-4.
Lewis JE, Thompson P, Rao BV, Kalavati C, Rajanna B. Human bacteria in street vended fruit juices: A case study of Visakhapatnam city, India. Internet Journal of Food Safety. 2006; 8(1): 35-8.
Mensah P, Yeboah-Manu D, Owusu-Darko K, Ablordey A. Street foods in Accra, Ghana: how safe are they? Bulletin of the World Health Organization. 2002 Jul; 80(7): 546-54.
Bhaskar J, Usman M, Smitha S, Bhat GK. Bacteriological profile of street foods in Mangalore. Indian journal of medical microbiology. 2004 Jul; 22(3): 197. doi: 10.1016/S0255-0857(21)02839-5.
Burt BM, Volel C, Finkel M. Safety of vendor-prepared foods: evaluation of 10 processing mobile food vendors in Manhattan. Public Health Reports. 2003 Sep; 118(5): 470. doi: 10.1016%2FS0033-3549(04)50279-0.
Kumari V. Nutritional and microbial quality of sugarcane juice in Udaipur city (Doctoral dissertation, M. Sc. Dissertation, RAU, Bikaner). 1995.
Mudgil S, Aggarwal D, Ganguli A. Microbiological analysis of street vended fresh squeezed carrot and kinnow-mandarin juices in Patiala City, Índia. Internet Journal of Food Safety. 2004; 3: 1-3.
Andrés SC, Giannuzzi L, Zaritzky NE. The effect of temperature on microbial growth in apple cubes packed in film and preserved by use of orange juice. International journal of food science & technology. 2004 Nov; 39(9): 927-33. doi: 10.1111/j.1365-2621.2004.00870.x.
Eckert JW. Fungicidal and fungistatic agents: Control of pathogenic microorganisms on fresh fruits and vegetables after harvest. Food Mycology. 1979: 164-99.
Mosupye FM and Von Holy A. Microbiological hazard identification and exposure assessment of street food vending in Johannesburg, South Africa. International Journal of Food Microbiology. 2000 Nov 1;61(2-3):137-45. doi: 10.1016/S0168-1605(00)00264-6.
Muinde OK and Kuria E. Hygienic and sanitary practices of vendors of street foods in Nairobi, Kenya. African Journal of Food, Agriculture, Nutrition and Development. 2005 Jan; 5(1): 1-14. doi: 10.18697/ajfand.8.1060.
Chumber SK, Kaushik K, Savy S. Bacteriological analysis of street foods in Pune. International Journal of Public Health. 2007 Apr; 51(2): 83-136.
Ghosh M, Wahi S, Kumar M, Ganguli A. Prevalence of enterotoxigenic Staphylococcus aureus and Shigella spp. in some raw street vended Indian foods. International Journal of Environmental Health Research. 2007 Apr; 17(2): 151-6. doi: 10.1080/09603120701219204.
Beuchat LR. Ecological factors influencing survival and growth of human pathogens on raw fruits and vegetables. Microbes and infection. 2002 Apr; 4(4): 413-23. doi: 10.1016/S1286-4579(02)01555-1.
Hatcher WS, Parish ME, Weihe JL, Splittstoesser DF, Woodward BB. Fruit Beverages. In: Compendium of Methods for The Microbiological Examination of Foods. Vanderzant C, Splittstoesser D.F (eds). American Public Health Association, Washington, DC. 2001 Jan. doi: 10.2105/9780875531755ch58.
Ahmad M and Farooq U. The state of food security in Pakistan: Future challenges and coping strategies. The Pakistan Development Review. 2010 Dec; 49(4): 903-23. doi: 10.30541/v49i4iipp.903-923.
Khan MM, Islam MT, Chowdhury MM, Alim SR. Assessment of microbiological quality of some drinks sold in the streets of Dhaka University Campus in Bangladesh. International Journal of Food Contamination. 2015 Dec; 2(1): 1-5. doi: 10.1186/s40550-015-0010-6.
Asha S, Nithisha K, Niteesha G, Kumar RB, Ravikumar V. Evaluation of microbial quality of street vended vegetable and fruit juices. International Research Journal of Biological Sciences. 2014 Jan; 3(3): 60-4.
Bello OO, Bello TK, Fashola MO. Microbiological quality of some locally-produced fruit juices in Ogun state, south western Nigeria. E3 Journal of Microbiology Research. 2014 Jan; 2: 001-8.
Das A, Nagananda GS, Bhattacharya S, Bhardwaj S. Microbiological quality of street-vended Indian chaats sold in Bangalore. Journal of Biological Sciences. 2010 Apr; 10(3): 255-60. doi: 10.3923/jbs.2010.255.260.
Lateef A, Oloke JK, Kana EG, Pacheco E. The microbiological quality of ice used to cool drinks and foods in Ogbomoso Metropolis, Southwest, Nigeria. Internet Journal of Food Safety. 2006; 8: 39-43.
Tambekar DH, Jaiswal VJ, Dhanorkar DV, Gulhane PB, Dudhane MN. Microbial quality and safety of street vended fruit juices: a case study of Amravati city. Internet Journal of Food Safety. 2009; 10(7): 72-6.
Eraky MA, Rashed SM, Nasr ME, El-Hamshary AM, Salah El-Ghannam A. Parasitic contamination of commonly consumed fresh leafy vegetables in Benha, Egypt. Journal of Parasitology Research. 2014 Jun; 2014: 613960. doi: 10.1155/2014/613960.
Khalil K, Lindblom GB, Mazhar K, Kaijser B. Flies and water as reservoirs for bacterial enteropathogens in urban and rural areas in and around Lahore, Pakistan. Epidemiology & Infection. 1994 Dec; 113(3): 435-44. doi: 10.1017/S0950268800068448.
FEHD The Government of the Hong Kong Special Administrative Region. The microbiological quality of Edible ice from ice manufacturing Plants and retail businesses in Hong Kong. Report No. 21. 2005 Dec: 1-27. Available at: https://www.cfs.gov.hk/english/programme/programme_rafs/files/edible_ice_ra.pdf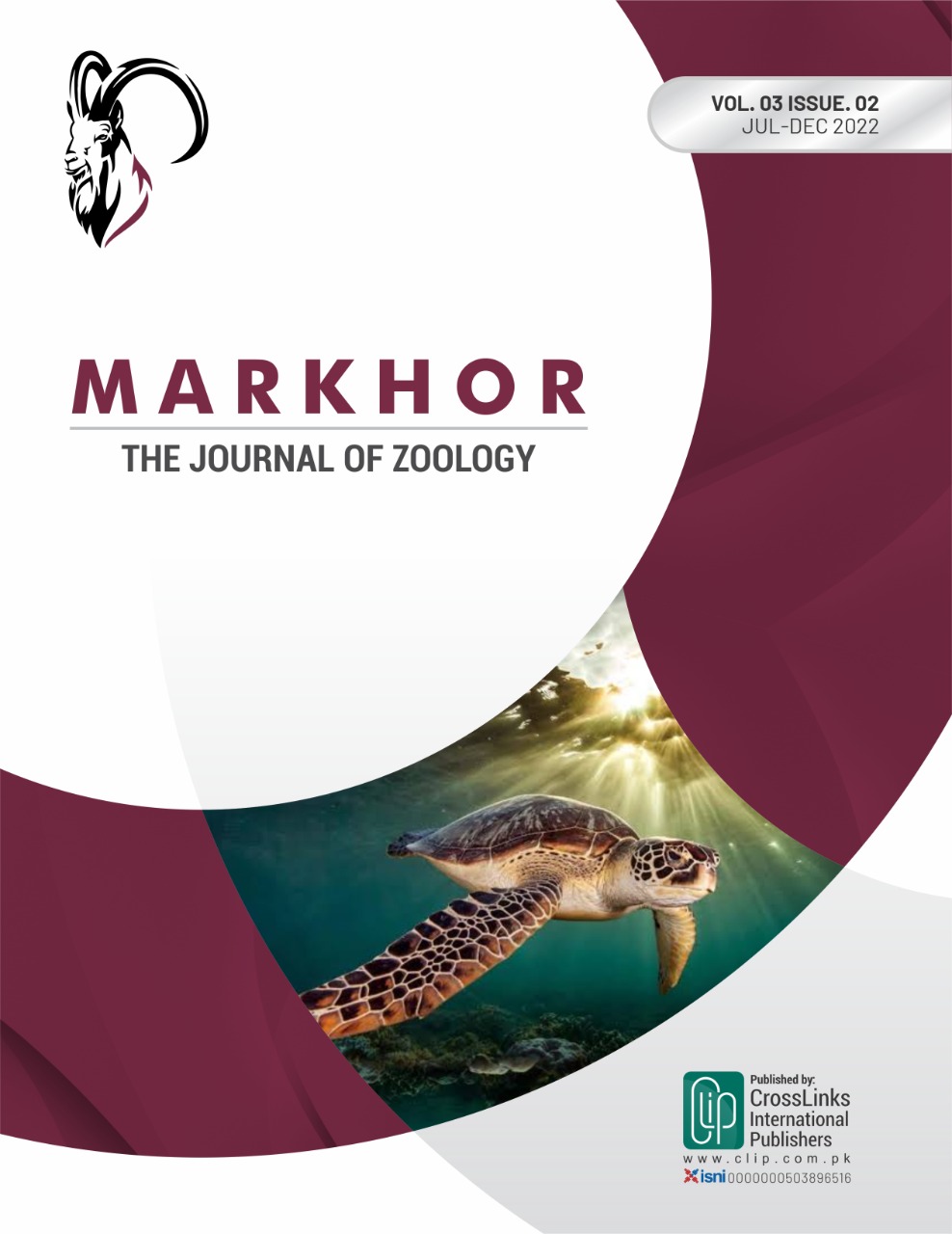 Downloads
CITATION
DOI: 10.54393/mjz.v3i02.50
How to Cite
Waheed Qureshi, A. ., & Tila, H. . (2022). Street Vended Juices as A Risk Factor of Microbial Diseases in District Mardan, Pakistan: Street Vended Juices as A Risk Factor of Microbial Diseases. MARKHOR (The Journal of Zoology), 3(02), 11–15. https://doi.org/10.54393/mjz.v3i02.50
License
Copyright (c) 2022 MARKHOR (The Journal of Zoology)
This work is licensed under a Creative Commons Attribution 4.0 International License.
This is an open-access journal and all the published articles / items are distributed under the terms of the Creative Commons Attribution License, which permits unrestricted use, distribution, and reproduction in any medium, provided the original author and source are credited. For comments editor@markhorjournal.com